Press Release: April 27, 2006
Gene Endrody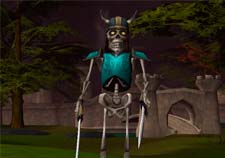 Media Advisory
Maid Marian Entertainment, a leading developer of next generation Web based games, today announced the release of Sherwood Dungeon into Open Beta. A free 3D fantasy MMORPG, Sherwood Dungeon runs entirely with a Web browser and features an infinitely deep dungeon filled with monsters and treasure.
"The time has come to open up the development process and invite players to see for themselves what we've been working on since the release of Sherwood," said Gene Endrody, president of Maid Marian Entertainment. "This launch expands on what we started in 2005 with the release of the first Sherwood MMORPG, with a faster code base and greatly enhanced feature set. Our intention is to revolutionize the way massively multiplayer games are delivered. Sherwood Dungeon is another milestone in the journey towards that goal, bringing together an online community of like-minded players. Imagine a 3D environment, where you can explore and interact with players around the world – all on a Web page. No retail box to purchase and no cumbersome client software to download and install. Just click a link on our Web site and you're in. We deliver immersive multiplayer 3D experiences right to your Web browser."
About Sherwood Dungeon
Sherwood Dungeon is a free 3D fantasy world where thousands of players come together to defend their honor in combat and join a community of like-minded participants. Inspired by the classic Rogue type games, Sherwood features an infinitely deep dungeon filled with monsters and treasure. Sherwood Dungeon also includes:
XP based character advancement with no level cap
Drag and drop inventory and equipment system
A wide variety of weapons, shields, potions, magic rings, etc.
Avatar based chat between players
Team-based player vs. player combat in designated areas
Motion captured animation
Dynamic time of day lighting
Immersive 3D environments and characters
Free, easy, and completely anonymous, SherwoodDungeon.com delivers a 3D multiplayer experience on a Web page, with no client software to install and no sign up required. Sherwood Dungeon is a constantly evolving world as new features and content are added based on player feedback. For more information or to play the game, please visit: http://www.SherwoodDungeon.com
About Maid Marian Entertainment
Maid Marian Entertainment is a leading developer of next generation Web based interactive entertainment, specializing in community oriented multiplayer games. Based in Vancouver, BC, Maid Marian produces 3D Web-games for direct to consumer digital distribution. Maid Marian's gaming portal at http://www.SherwoodDungeon.com features a variety of Web based games including Marian's World, Moon Base, Ratinator, Tank Ball and the newly released Sherwood Dungeon.