The texture updates for the avatars and monsters are out and I've been taking note of your feedback and opinions from the game, email and guild forums. Yes, I'm a forum lurker. You wouldn't believe how hard it is to register for a Sherwood forum when your name is Gene and nobody believes it's you.
The Dark Knight was the most challenging and delayed the release of the update by a couple weeks. As the original Sherwood avatar, the Dark Knight was interpreted by players in many ways - Dark Knight, Paladin, Roman Soldier, Gladiator, Barbarian or Warrior. I hope the result meets your expectations.
The success of Club Marian and the new visual update to Sherwood Dungeon have required a few more servers to keep up with the 15 terabytes of monthly bandwidth. For those keeping score, that's nine servers all together. We also attracted more than 1.5 million monthly unique visitors for the first time - that was a cool milestone to hit. Club Marian now attracts over 2000 simultaneous players at peak.
October and November have been lighter months than normal as I recharge my batteries. When I worked in the console games industry, I always hated crunch time. That's the time at the end of game development when you're trying to hit a release date come hell or high water. It's ironic that I found myself in a self-imposed brutal crunch trying to get Club Marian out on a date that only I was aware of. The fog is lifting and the desire is coming back now, so stay tuned.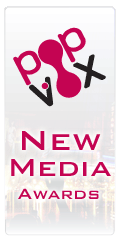 You did it! You amazing bunch of Sherwood players have done the impossible. Thank you! Sherwood Dungeon is the 2007 winner of the PopVox Best Game and Best of British Columbia awards at the Vidfest New Media awards. This was in a field that included games like Need For Speed Carbon, NHL 07, Company of Heroes, Scarface: The World is Yours and Mario Strikers. I felt a like the high school geek running for class president, so Iím a little light headed today. In a gala event, in front of new media and games professionals from around the world - we ruled! Just so you know, Best of BC was not only the games industry, it included Web 2.0, digital animation, music score, mobile games and visual effects that originate in BC. Best Game was open to entries from around the world. It's a big deal, it's all because of your votes and you're the ones who won this!
You must have also noticed that Club Marian was launched early this week, right on schedule and seems to be doing really well. I hope the new avatar creation, music interface, disco lights and driving were a nice surprise. I've got a few more things planned down the road for this, but Sherwood has been taking most of my time lately. Here's a few teaser screenshots of a visual upgrade I have planned for October (I hope). The new Dark Knight is still to come - harder than I thought, but we'll get there.

I've been working like a mad man through June, July and August and honestly haven't had time to update this diary. I'm off to Aruba today for a holiday, but here's an update before I go.
1. The new multi-user game server software is fully up and operational. The MMUS (MaidMarian Multi-user Server) has performed beyond my expectations and the performance and stability has been outstanding thanks to help from my friend. (He knows who he is.) This software provides the foundation for future growth and will impact game features in the coming months. I've also had to add a seventh server to keep up with traffic.
2. New features have appeared in Sherwood over the last few months. This includes a new system for building interconnected buildings and bridges. The grass huts in Haunted Palm and tree houses in Frost Bite are examples of this and are in direct response to the many requests I've been getting around buildings and towns.
3. A new Sherwood NPC type has been added. Right now the Castle Guard by the bridge in Sherwood Castle is the only example in the game, however more of this type will appear in the future for storytelling elements. The Castle Guard is there to answer frequently asked questions and help new players.
4. Work is underway on new textures for all avatars and monsters in Sherwood. I don't have an exact timeline for release, but this should provide a nice visual upgrade to the characters and overall improvement to the look of the game.
5. I'm about 85% through a new game or virtual hangout as a successor to Marian's World. Although Marian's World was the first multiplayer game I developed for the site, it still attracts over 600 simultaneous players during peak times. Not bad for an old game with limited feature set and backwards visuals by my current standards. I decided to take some of the ideas from the original game and bring it to a whole new level. The new games features much more sophisticated avatar customization (yes, there are male avatars), music features, emoticons, a shiny new roadster to drive around and a few other surprises. I've been working seven days a week on this game and it's almost done. Expect to see it in September. I'll keep the game's name a secret for now and not to worry, the original Marian's World will remain on the site after the release. I know how you get attached to my older stuff and then yell at me when I try to upgrade ;)
6. It was a good time for press and publicity with blog entries from games industry insiders like The Escapist, The Forge, Wired Game Life, FreeToPlay.biz, Raph Koster, Lost Garden and a bunch of others. The article that started it all off was a Showcase and Case Study that Adobe did on Maid Marian Entertainment. Adobe is the company that makes Photoshop, Flash, Shockwave etc. Here's the link.
7. I also spoke at the Vancouver International Game Conference and nextMEDIA 2007 in Banff, Alberta. Here's a video webcast of my nextMedia panel presentation on Interactive Games and Social Networks. (OMG, you finally going to see what I look like I'm not the host, rather the balding red head with the beard- - don't be too harsh.)



It's been a busy two months since my last post. Yesterday I integrated Digg into the site so each game has a "digg it" link under the start icon on the main page. You can show some support for the games and leave a comment if you wish. I will check these on a regular basis to see what players are saying. I see Digg as an important way to collect more feedback and drive new traffic to the site. I even put Digg on this Developer's Diary to see what comes up, particularly if there are developers out there who wish to leave some public feedback.
I created a new updated version of Tank Ball, now called Tank Ball 2. This new version cycles between three environment styles (Snow, Forest and Tropical) and includes weapon and speed power-ups. Thank you to those who sent me email to provide early feedback. I put in a number of changes based on these comments and made sure to retain the original Tank Ball for those of you who preferred the older version.
For Sherwood Dungeon, I implemented a landing page with instructions and screenshots. This adds one more mouse click to get into the game, something I didn't take lightly, but I thought it was important to give new players information about game and what it looks like. I added a player list and ignore feature to Sherwood Dungeon. On the Character Panel, which you get to by clicking on the hit-point bar or by pressing , there is now a Player List button. When you click on a player's name, it brings up information about their health, team color and weapons currently equipped. The button on this page allows you to ignore future messages from this player. So if there is a particular person you'd rather not interact with, ignore them. I've also implemented a new shadowing system for the outdoor environments. The difference is subtle, however trees now cast shadows. For shockwave developers out there, this was done with Imaging Lingo. Thank you to those of you who caught bugs related to this upgrade (white ground on some video cards and black shadows in Ancient Sherwood). These issues are fixed now. Other visual upgrades related to the characters in Sherwood are in the works.
The support for the Microsoft Vista operating system has been getting much better for the games. Adobe released two new version of Shockwave last month to help with slow frame rates under Vista and to solve problems with certain keys in the game that were affecting both the game and the browser (like the Tab and arrow keys). There are still issues with certain video cards under Vista, but for most players it runs the same as with Windows XP. As graphics card drivers improve for Vista, I expect these issues to go away. Adobe is working towards an updated version of Director early in 2008, and this will likely result in improved frame rates, Intel Mac compatibility and allow me to explore some new visual updates to the games.
Work is underway on a new version of Marian's World with many new features, avatars and an updated look. I'm not going to talk much about this as I'm in the middle of development and the feature list has not been locked down yet. The new version will not replace the old Marian's World, more like it's spiritual successor and I'm still trying to come up with a name for this new game / social hang-out.
Work on the new multi-user game server software has been going slower than anticipated, however this is progressing and I expect to begin the process of transitioning the games to the new servers in the coming weeks. This software is the first step towards implementing an opt-in account system down the road. I'm not committing to a timeline for the account system, but once the new servers are up and stable I'll be looking at this.
I presented in a round table on design for massive multiplayer games at the Vancouver International Game Conference early last month and will be leaving to present at the nextMEDIA Conference in Banff, Alberta in a few days. I'm going to do more game conferences over time as I really enjoy interacting with other game developers, something I miss from my Radical Entertainment days.
Well, you're up to date. Thanks for reading my ramblings.
Gene


1. Dragons
Yup, they're finally in. I had to rewrite a great deal of the monster code to get larger monsters to work properly. Dragons have eight times the hit points of regular monsters and can kill you in two hits at the same XP level. I also gave them two attack types of different duration to make them harder to block. There are three types: Snow Dragons in Frost Bite, Sea Dragons in Lost Lagoon and Jade Dragons in Ancient Sherwood. There are also "baby dragons" (Basilisks and Lizards) in levels 10 and up in the Dungeon and on three of the islands.
2. Frame Rate Optimization
I found an obscure optimization that improved the frame rate on Sherwood Dungeon quite substantially. For any Director developers reading this, when you remove an object from the world, the bonesplayer still updates and can slow the game down even if there's no animation currently playing. Use .removemodifier(#bonesplayer) on any bones objects not in the world. Just remember to .addModifier(#bonesPlayer) and restart the animation when you bring the object back into the world.
3. Camera Mode
I've been taking notice of the increasing number of Sherwood Dungeon videos that keep appearing on YouTube. This is fantastic and I decided to add a feature to help those hardcore movie makers. /Camera is a new command that switches the Sherwood camera to one that you can fly around the world to get those shots that you can't get from the in-game camera. Here's how it works:
/help camera Displays help on using camera mode
/camera Switches to Camera mode
Once you are in Camera mode:
Orbit Drag the Left Mouse Button rotate the camera around a point.
Pan Drag the Right Mouse Button to move the camera left, right, up or down.
Zoom Drag with Left and Right Mouse Button simultaneously to zoom in or out
<R> Resets the Camera to default position.
<SpaceBar> Ends Camera Mode
When you create Sherwood Dungeon videos, you are creating Machinima. Although the definition is a little more technical, Machinima is basically when you capture the screen of a computer game to video files and edit them it to tell stories or make music videos. Some of the examples on YouTube are great and I certainly encourage anyone who wants to use my games to create entertaining videos.
Sherwood Dungeon on YouTube:
www.youtube.com/results?search_query=Sherwood+Dungeon
Here's a few links on Machinima:
www.en.wikipedia.org/wiki/Machinima
www.machinima.com
If you want to get into making Machinima, you will first need a utility to capture the computer screen into a video file. It's usually not a good idea to try to capture the entire screen as you will get a poor frame rate for the video. Because Sherwood will scale to the size of the web browser window, I would suggest scaling it down to a smaller size before capture. Keep in mind that your video could get stretched to the aspect ratio that YouTube expects. The ideal capture size for Sherwood to match YouTube's aspect ratio would be approximately 728 by 545. Do some experimenting to see what gives the best results.
For screen capture, the Windows Media Encoder is free. Here's a download link:
www.microsoft.com/windows/windowsmedia/forpros/encoder/default.mspx
Here's a link to a tutorial for using the Media Encoder for screen capture:
www.microsoft.com/windows/windowsmedia/howto/articles/screencap.aspx
I've also noticed that many Sherwood videos were captured using HyperCam. Here's a link: www.hyperionics.com/hc
Although you can put up an unedited video, the best results will come when you edit smaller video files into a final result. Windows Movie Maker is free and comes with Windows XP. This will let you add music and audio files, titles, transitions and effects. Lots of short duration clips edited together with different camera angles will look better than long boring shots. For rock videos, try editing your cuts right on the beat of the music - difficult to do but the results can look great.
Here's a link to Windows Movie Maker if you don't already have it on your computer:
www.microsoft.com/windowsxp/downloads/updates/moviemaker2.mspx




I've been getting a great deal of email reminding me that it's time to update my Developer's Diary. Next week I'm off to the Game Developers Conference in San Francisco for the fourth year in a row. It's an opportunity to meet other like-minded people from the games industry, exchange ideas, get inspired and have some fun. I better get you up to date before I fly out.
The last two months were a period when a great deal was happening, however much of that wasn't visible in the games as new features. I needed to look into the future and ensure we were ready and with MaidMarian.com at over 1.4 million unique visitors a month, we were at risk of being bogged down by our own success. As I looked forward over the next few years, it became clear that in order to handle continuous growth in traffic and game features, I would need to make major improvements in our backend and server infrastructure. All the game servers currently run an "of-the-shelf" application that ships with Adobe Director called the Shockwave Multiuser Server to handle all multiplayer aspects of the games. Although the SMUS has served us surprisingly well, it's no longer in active development or supported by Adobe. As a result, the primary focus over the last two months has been the in-house development of new, custom written server software that offers the performance, flexibility, security and scalability we need for the future. The MMMUS (Maid Marian Multiuser Server) is currently in beta and we plan to switch all the games over in late March. By itself, the server doesn't add new features to the games but we're now in a much better position to realistically tackle database driven community features like user accounts, guilds or friends lists. I also sleep better at night knowing the site should be able to handle millions of additional monthly visitors.
Other updates and changes:
1. Amulets
I introduced four new amulet types at the beginning of the year - the Talisman of Fire, Amulet of Poison, Stone of Darkness and Talisman of Ice. Just like the Enchantment of Speed, they are triggered with the key and take about 15 seconds to recharge. These amulets trigger various magical attacks for use in combat and all display unique visual effects on your opponent. During PVP the magical attacks can be especially deadly against players that like to block continuously.
2. Dragons
It looks like the appearance of the Dragon Statue in the courtyard of Sherwood Castle has created much rumor and speculation. Since I first indicated that dragons were in the future plans for Sherwood, there's been a great deal of anticipation as to when they would appear. I still can't give you an exact release date, other than to say we're working on it. As you can see from the statue, 3D modeling is complete. Animation for the dragon is still in the early stages and integration into the game will start once the animation is complete. With all the server changes, I'm not expecting to release dragons until late April.
3. Interview and Press I did a two part interview with Hanford Lemoore for his blog recently. If you're curious about my background, design approach or the technology behind the games, have a look:
Part 1: My Background, Building a user base, Using of-the-shelf tools
Part 2: Technical Aspects, Business and Marketing
MaidMarian.com also was mentioned in the Escapist, a popular online magazine covering gaming and gamer culture, in an article entitled "Boutique MMOGs, Under the Radar but bigger than EverQuest" by Allen Varney. Here's the link: www.EscapistMagazine.com/issue/75/15


< Prev | Page: 1 2 3 4 5 6 | Next >